Eric
Hinrichs
Based in Bucks County, Pennsylvania, Eric Hinrichs is an accomplished author and seasoned professional with a 31-year prolific career at Johnson & Johnson. His vast experience and expertise, captured in his ten patents and the pivotal ASTM standard he authored, have left indelible marks in the medical field worldwide.

Eric's prowess as a writer goes hand-in-hand with his industry expertise. In 2019, he published "Perceptions and Expectations," a thought-provoking guide that offers insights into career development, attesting to his commitment to helping others grow professionally. He has also authored numerous articles on a wide range of topics, from risk management to project leadership, showcasing his versatility and breadth of knowledge.

Beyond his professional pursuits, Eric is an ardent explorer of the outdoors and an avid reader, with an endless thirst for knowledge and adventure. He cherishes spending time with his wife, Kim, and their inquisitive cat, Baxter, whether at home or embarking on new adventures. Whether through his impactful professional contributions or through his enriching literary work, Eric Hinrichs continues to inspire, educate, and lead by example.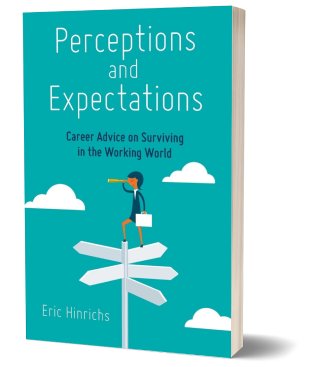 Perceptions and Expectations
Maximize career opportunities, improve your chances for advancement, earn more money, and enjoy your work more withthe lessons in Perceptions and Expectations
Ebook or Paperback: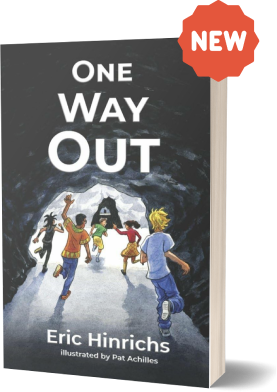 One Way Out
One Way Out" is a gripping tale of survival. Five students, in a sudden reality shift, must solve treacherous puzzles to survive. Their journey explores fear, teamwork, and high-stakes choices. Can they find the only way out?
Ebook or Paperback:
Perceptions and Expectations Reviews
Definitely an enjoyable read that made me feel like I was in a conversation with the author, making the book an engaging and fast read. Split into a few dozen "chapters", or topics, anything and everything related to life at and around work is covered. While some chapters may read like complaints, the author always something provides valuable takeaways.


Flguni Patel /

Mar 22, 2020

This is a quick, fun, and insightful read. It is full of advice that would be helpful to anyone, no matter what stage they are in their career. The book covers just about every subject you encounter in a work setting. It's a very introspective read, loaded with wisdom. I imagine myself reading it again and again and taking something new and valuable out of it each time. I strongly recommend this book to any working and/or aspiring professional!

This is a great book that educates the reader about the basics of the work world, as well as, "the read between the line" knowledge so necessary to be successful. It is especially good for engineers and those that have to work in teams. I bought it for my daughter who will be entering the world of biomedical engineering in May.
One Way Out Reviews
Fast read with lots of problem solving and logic. Team building lessons a bonus. Congrats to Eric Hinrichs for creating a Middle School classic


This is a great book for any middle school aged student who may be questioning the importance of education and its impact. This book is similar to a "Choose Your Own Adventure" format, but written as a story. I almost thought of it as a middle school version of the "Breakfast Club" except with puzzles and without the super serious conversations. The puzzles intertwined in the story make you think and problem solve. The students in the story that are tasked with these challenges all bring something unique to the table to help solve these puzzles. They aren't aware of this at first, but during their struggles they learn that their uniqueness is what helps them achieve the goal and that the things you learn in school are important even if you don't see that right away.
Beyond the Book.

Professional Writings by Eric Hinrichs
Get in Touch with
Eric Hinrichs
Eric deeply values the thoughts, questions, and feedback from his readers. Whether you want to share your impressions of his books, ask a question, or simply send a friendly greeting, Eric is excited to hear from you. Use the form below to send your message directly to him, and he'll respond personally as soon as he can.
Copyright 2023 Eric Hinrichs
Website/ Hosting by Meadowlark IT